The global rise in e-commerce and online transactions creates increasingly more opportunities for cybercriminals.1 With this trend, The Homer Fund is also seeing an increase in grant requests due to associates falling victim to scams and a resulting inability to pay essential living expenses.
In an effort to help inform and protect our associates from fraud, below we've listed some common types of fraud and best practices from defending yourself and your financial security.
Coronavirus-related scams
With the outbreak of the COVID-19, scammers are using various scare tactics and misinformation to take advantage.
Financial phonies – With many of Americans receiving stimulus checks, the IRS has warned that scammers are promising to speed up receiving your payment.
Provider scams – Scammers impersonate doctors and hospital staff and contact victim card demanding payment for treatment of a friend or a family member.
source: ftc.gov/coronavirus
Gift card scams

Gift cards are a popular way for scammers to steal money from you. Gift cards are for gifts, not payments. Anyone who demands payment by gift card is always a scammer.2 Please beware of the following:
Callers from a "utility company" threatening to cut your power off
Callers who tell you that you are a prize winner of a sweepstakes, but have you purchase a gift card to pay the fees and other charges
source: consumer.ftc.gov/articles/paying-scammers-gift-cards
Phishing

Phishing is a way hackers trick you into providing personal information or account data. To gain your login credentials, cybercriminals may send emails claiming you need to verify your email account to avoid deactivation. Once your info is obtained, hackers create new credentials or install malware to steal sensitive data.
Protect your computer and accounts by using security software and multi-factor authentication
Protect your mobile phone by setting software to update automatically
Protect your data by backing it up
source: https://www.securitymetrics.com/blog/7-ways-recognize-phishing-email

Dating scams

(online dating and related extortion) – Millions of people turn to online dating to meet someone. But instead of finding romance, many find a scammer trying to trick them into sending money. Scammers create fake profiles, strike up a relationship with their targets to build their trust, then ask for money. To avoid this type of scam, never reveal any personal data or financially support someone until you have met in person and developed a significant level of trust.
source: ftc.gov
Extortion

sometimes referred to as "sextortion" when pertaining to sensitive material – occurs when someone threatens to distribute your private material or matters unless you provide favors or money. Extortion of any kind is extremely serious and should be reported to law enforcement and your email provider immediately.
sources: fbi.gov, welivesecurity.com
Rental scams

Finding the right rental property can be hard work. Scammers know a seemingly good deal is hard to pass up, so they create fake advertisements that can have you submitting payment well before realizing it's a scam.
According to the Federal Trade Commission, here are some signs you may be dealing with a scam:
They tell you to wire money
They want a security deposit or first month's rent before you've met or signed a lease
They say they're out of the country
source: ftc.gov
Scams targeting seniors

According to the National Council on Aging, financial scams targeting seniors have become increasingly prevalent — and 90% of those impacted reported being scammed by family members. According to fbi.gov, seniors lose more than $3 billion annually. The most common financial scams against seniors include:
Counterfeit prescription drugs
Telemarketing scams
Homeowner/reverse mortgage scams
Sweepstakes and lottery scams
The grandparent scam
Medicare/health insurance scams
Seniors can combat the above by refusing to give personal and financial information over the phone until thoroughly verifying authenticity. Save resource numbers to call such as Adult Protective Services, local police and your bank. To gain contact information for Adult Protective Services in your area, call the Eldercare Locator, a government sponsored resource line, at 1-800-677–1116 or visit eldercare.acl.gov.
source: National Council on Aging (ncoa.org)
Now that we're familiar with some common strategies of cybercriminals, please review the practices below for protecting yourself from fraud.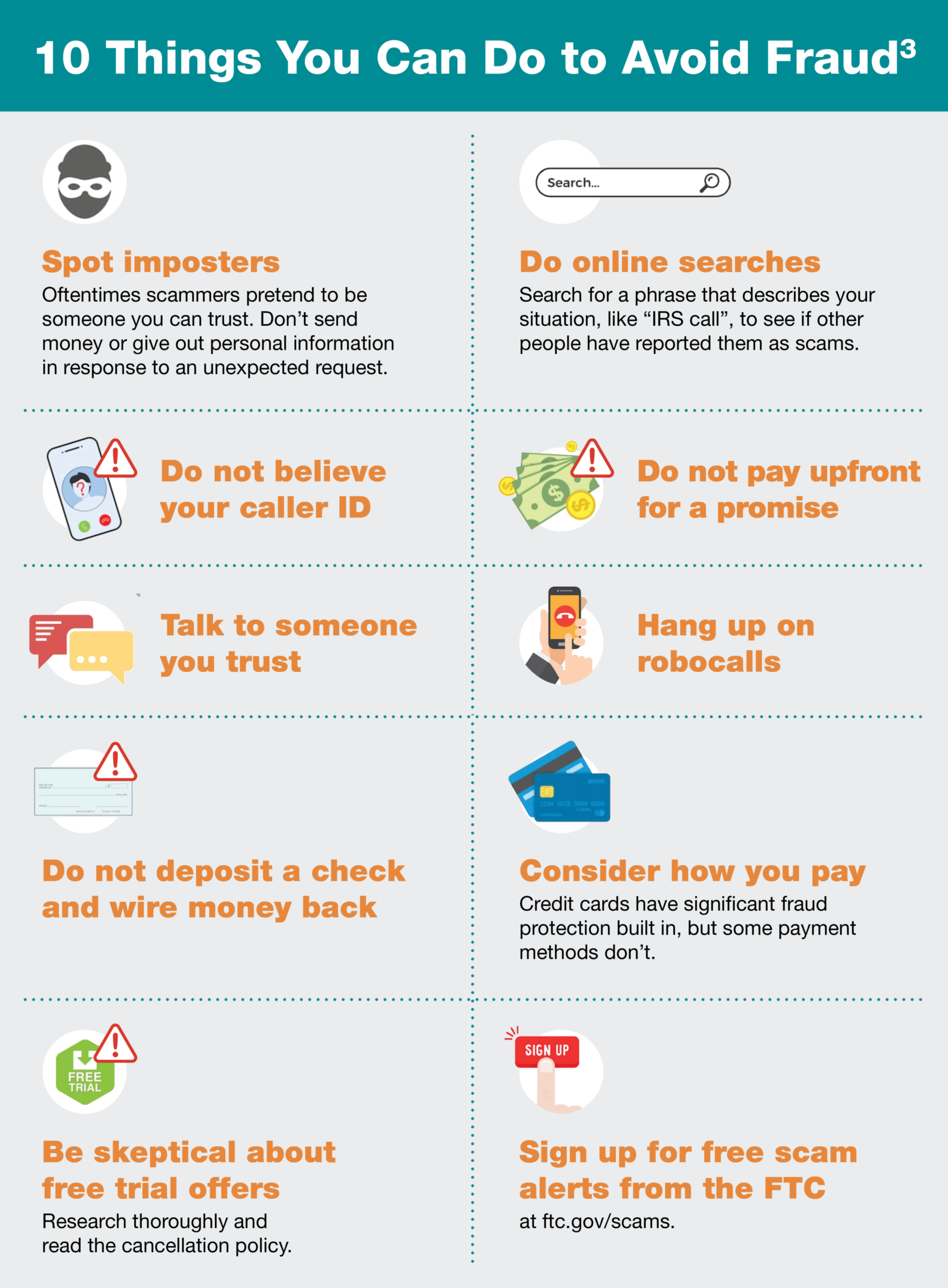 For additional information, please visit ftc.gov
1 https://www.forbes.com/sites/louiscolumbus/2020/05/18/how-e-commerces-explosive-growth-is-attracting-fraud/#f3b181e6c4b9
2 https://www.consumer.ftc.gov/articles/paying-scammers-gift-cards
3 https://www.consumer.ftc.gov/articles/0060-10-things-you-can-do-avoid-fraud